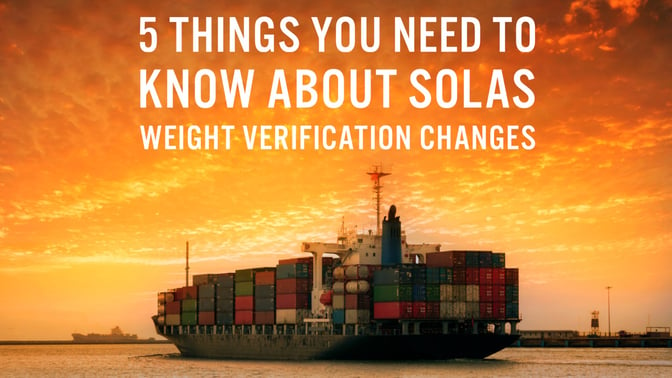 In international shipping, simple errors can amount to major incidents. Especially so when it comes to the weight of a container on a sea freight vessel.

Yes, mistakes happen. But, when they happen frequently and with large consequences, something must be done.

Global action is now occurring due to dangerous accidents relating to overweight shipping containers.

In response to these major incidents, the Safety of Life at Sea Convention is enforcing new regulation standards for weight verification.
In place from the 1st of July, 2016, these new requirements aim to increase the safety of shipping goods via sea.
So how will these new regulations affect you? Our international logistics experts have information to bring yourself up to speed.


How to Meet the New Container Weight Verification Rule
To meet the standards required by SOLAS, you the shipper must weigh and verify your goods.

There are two different methods that you can use to weigh your goods:

Method 1: weigh the fully packed container
Method 2: weigh each individual item inside the container, as well as the container itself, and add it up
Whichever you decide to use, it must be a certified method approved by a competent authority.
Gathering the Supporting Documentation
After you have weighed your container, you then need to ensure that you state the verified gross mass in your shipping documentation.

Once the exact container weight has been noted, the document then needs to be signed, confirmed, and sent off to the carrier with plenty of time before the vessel is loaded.
This has to be done in advance of your shipping, as it's used in the preparation of the ship's stowage plan.


Who Does This Requirement Apply To?
This standard applies to all CSC containers. This includes standard sea freight containers, tank containers, flat racks and bulk containers.

However, some exclusions apply.

If your container is carried on a chassis or trailer that's transported on a ro-ro ship in short international voyages, you don't have to abide by this new regulation. Or, if you're shipping using an offshore container, or one that doesn't meet the definition of a container (as defined by CSC), you are also excluded from this necessity.


What Happens If You Don't Do It?
While enforcement and penalties haven't been defined yet, it stands to reason that it would be wise to follow these new regulations.
One thing that is certain is that if your container doesn't have its weight verified, it won't be loaded onto the carrier.
Needless to say, there would be severe disruption to your supply chain , which would be very costly in both your time and money.


What Now?
It is unlikely that the introduction date will move, so all shippers should prepare themselves for this requirement to come in as planned on the 1st of July.
Our advice? When shipping your goods, allow added time to organise this weight verification documentation.
There's no getting around it - so it's best to factor in a little more time than usual until you're completely comfortable with the process.

If you have further questions about this new regulation, please don't hesitate to contact us - we'd be happy to help in any way we can.