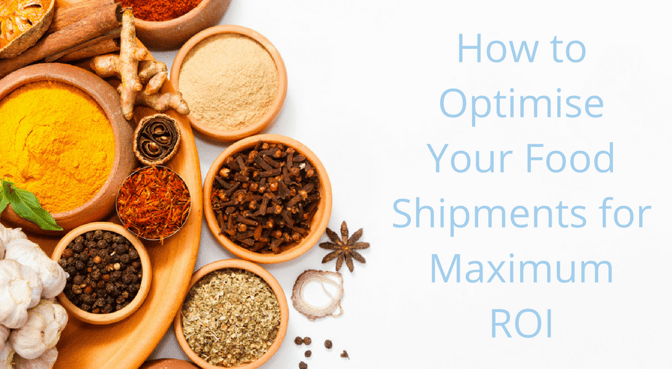 For those shipping food goods from the UK to the USA, the ability to swiftly transport your products is vital. Not only can longer delivery times result in heavier costs, they also put your goods at risk.
So how can you ensure your goods arrive at their intended destination on time? How can you optimise your processes to reduce your shipping costs? How do you safeguard your goods?
Here are some key factors to focus on in order to achieve successful food shipments.
Complex Customs Clearance
Food customs clearance is a key aspect of your shipment process. This is where the majority of delays occur. Many shippers find themselves marooned amongst a heap of faulty or misplaced paperwork.
Shipping foods internationally is an incredibly complicated process, and U.S. Customs and Border Protection is notoriously difficult. As such, this facet of your food shipments must be paid due attention.
Poor planning and execution can lead to your goods being halted, resulting in spoilage or, at the very least, increased cost and late delivery.
To allow your food products to proceed unhindered through Customs, ensure you have all correct documentation and food labelling. If you are new to shipping or are unsure of what you need to do, enlist the assistance of an expert.
At WTA, we have decades of experience in food shipments from the U.K to the U.S. We'd be happy to help you in any way we can.
Streamline Your Supply Chain
The speed of your food delivery is dependent on the efficiency of your supply chain. The shorter and more productive your logistics are, the better. However, if you have a longer supply chain, you can still enhance it for improved results.
There are a number of ways you can work to increase the efficiency of your supply chain. We would recommend:
Analyse and optimise your logistics processes: By investigating your supply chain, you can identify areas of peak and minimal performance. Once you know where the problems are, you can work to remedy them.
Improve Your Data Systems: Moving from outdated or slow data systems to advanced, cloud-based technology helps to speed up your supply chain and improve your communication structures.
Always Look to Improve: Committing to continuous improvement will help to keep your supply chain working like a well-oiled machine.
By utilising the above strategies, you can create a supply chain that moves your products to their final destination as swiftly and cost-efficiently as possible.
Utilise Expert Assistance
The best way to ensure your food products arrive at their intended destination on time and on budget is by working with an expert. Regulations, trade agreements and markets are constantly shifting - how can you keep up with it if you're focused on your business?
By enlisting assistance, you can rest easy in the knowledge that your goods are being handled with all due care and professionalism.
You don't have to spend your time studying the ins and outs of international trade. Instead, you can let seasoned experts handle it while you focus on more important areas of your business.
At WTA, we offer a bespoke food shipment service under our WTA Food speciality. With core distribution hubs throughout the U.S., we can offer you:
Swift complex customs clearance through our knowledge and industry contacts
Expertise and advice on FDA compliance issues such as labelling
Remote and electronic filing, so we can control your customs clearance from anywhere in the U.S.
Complete visibility of your products from our 24/7 Track and Trace program
Pick and pack when needed
Building of PDQs that can go directly to your customers
Don't leave your food products vulnerable to delay or spoilage. By using the above approach, you can ensure that your goods arrive on time and in premium condition.
Would you like to learn more about how WTA Food can help your business? If so, you can find more information here.