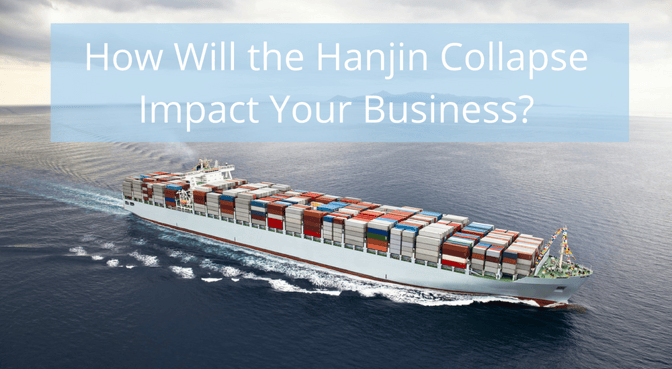 Shippers all around the world are reeling from the recent decision by South Korea's largest shipping group Hanjin to file for bankruptcy. Unable to restructure after a loss of around £325m, the closure was announced after creditors refused to provide further funding to the indebted firm.
As the 7th biggest shipping line in the world, Hanjin's closure will undoubtedly impact on global freight, but how?
How Will the Hanjin Receivership Impact Your Business?
As Hanjin is part of the CHYKE Alliance, their removal from the market will be felt keenly by international shippers. Whether you ship infrequently or in large quantities, in the short term, it's likely that you will experience some form of delay.
With massive amounts of goods shipped daily across the world's major trade lanes, Hanjin's bankruptcy will disrupt the delicate balance of supply and demand for shipping vessels.
While the market comes to terms with this loss, it's likely that you might experience the negative effects of limited space on the other carriers.
If you are a client of Hanjin, prepare yourself to incur delays with your shipments. There are reports that Hanjin vessels are already being refused entry into ports, or are being held at ports at the request of the South Korean courts/receivers. As such, your goods may be unable to arrive at their intended destination on time. Additionally, there is a high probability that prices will sky-rocket due to the shortage of space onboard the carriers.
Help Is On the Way
If you are a customer of Hanjin or are concerned that you will be impacted by the shortage of space on containers, do not fear. Thankfully, Hyundai Merchant Marine Co. is planning to deploy 13 more vessels into the U.S. and European trade lanes in order to make up for the new Hanjin deficiency.
This introduction of additional carriers will help to speed up transport times once again so trade lanes can return to normalcy.
As international freight experts, we understand the stress that this recent event can cause to you and your business operations. However, this doesn't have to remain the case.
At WTA, our global logistics experts are here to help you to cope with this new market reality. With our network of best-in-class carriers and partners, we can help you to evaluate the potential impact the Hanjin receivership could have on your business, and how it can be remedied.
This is a confusing and chaotic time, and with that comes questions on the best ways to proceed. We are more than happy to answer any question you may have, and will help you to navigate this change as swiftly and efficiently as possible.
Contact our international shipping experts today to lessen the impact that the Hanjin bankruptcy might have on your business.