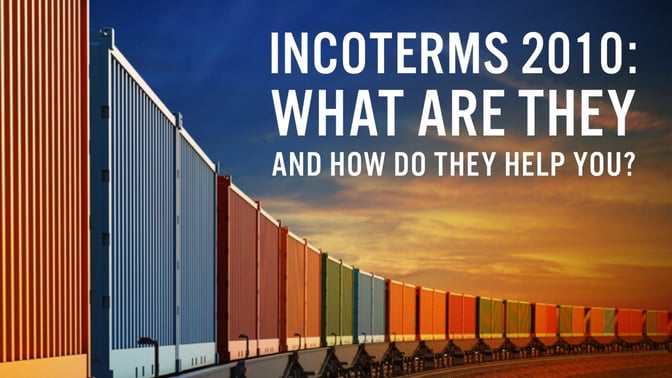 Making the decision to start importing and exporting can be a daunting experience.
There are many factors in play, and, for beginners, it can be difficult to know how to action them. One very important factor is to incorporate Incoterms 2010 into your contract of sale.
Another layer of complication is the jargon that surrounds the freight industry. When you start out, it might feel like you need a translator, especially when it comes to interpreting the Incoterms 2010.
At WTA we are global logistics experts. We offer a fully comprehensive Supply Chain management service to our network of international clients. As such, we know the ins and outs of this industry like the back of our hands.
We want to help you get your head around Incoterms 2010. To get you started, our team of international freight experts have developed this helpful guide on what you need to know about Incoterms 2010.
What They Are
Standing for International Commercial Terms, Incoterms 2010 are a globally agreed and accepted structure of contract terms, devised and agreed upon by the International Chamber of Commerce.
These terms are usually shown as a three-letter abbreviation, followed by the place relating to it (e.g. CIP Felixstowe port, UK).
Incoterms 2010 aim to clearly define each parties' obligation and make international trade that bit easier.
What They Do
There are many purposes behind Incoterms, all which streamline and protect your freight.
Incoterms 2010:
Indicates whose responsibility it is to arrange and pay for transport.

Set up a point of delivery from the seller.

Decide where and when the risk switches between the seller to the buyer during the shipping process.

Clearly define responsibilities including licences, documentation, notices, and general obligations.

Dictate who pays for the cargo insurance during your transportation.
Benefits of Incoterms 2010
Incoterms 2010 brings an air of clarity to a process that can so often be masked in a cloud of confusion.
The fact that they are internationally recognised also provides you with a great deal of security.
For a first-time importer or exporter, this is invaluable. Incoterms 2010 helps you to reduce unexpected costs or delays due to confusion. They also help you to diminish the risk/cost of litigation, as it's recognised by international courts.
The Incoterms
There are 11 different Incoterms. These are divided up into 4 main categories and 2 classes.
Categories:
"E" Terms: Goods available at the seller's premises.

"F" Terms: Cargo delivered to the buyer's carrier.

"C" Terms: Main carriage paid by the seller.

"D" Terms: Cargo delivered to the nominated location.
Classes:
Suitable for use by all modes of transport.
Terms for sea and inland waterway transport.
For a full list of the different Incoterms, click here.
At WTA, our global logistics experts want to make sure your shipping is a stress-free process. We hope that you've found this information useful and that you can put it to good use.
We understand that transporting your goods internationally, or even locally, is difficult if you're new to it. If you have any questions, please don't hesitate to contact our team of international supply chain managers today. We'd be happy to help in any way we can.
If you'd like to learn more about what it takes to ship your goods overseas, why not check out our International Shipping Checklist? It's the perfect place to start, and it's free.
Download the International Shipping Checklist today to ensure your international shipping is nothing but smooth sailing.