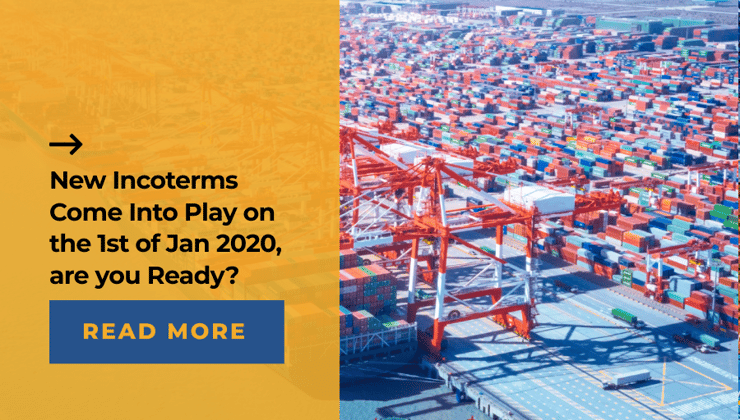 Posted: December 5, 2019
Updated: April 27, 2022
The International Chamber of Commerce (ICC) have announced updated Incoterms® 2020 which will come into play on the 1st of January 2020.
What are Incoterms®?
According to the ICC - The Incoterms® rules are the world's essential terms of trade for the sale of goods. Whether you are filing a purchase order, packaging and labelling a shipment for freight transport, or preparing a certificate of origin at a port, the Incoterms® rules are there to guide you. The Incoterms® rules provide specific guidance to individuals participating in the import and export of global trade on a daily basis.
On the release of Incoterms® 2020, ICC Secretary General John W.H. Denton AO said:
"Incoterms® 2020 rules make business work for everyone by facilitating trillions of dollars in global trade annually. Because they help importers and exporters around the world to understand their responsibilities and avoid costly misunderstandings, the rules form the language of international sales transactions, and help build confidence in our valuable global trading system."
Why have Incoterms® been updated?
Incoterms® 2020 will help prepare business for the next century of global trade. The updates will include more detailed descriptions of the Incoterms® have been provided along with more detailed graphics.
What has been changed or updated?
Some brief highlights outlined by the ICC are:
Provides for demonstrated market needs in relation to bills of lading (BL) with an on-board notation on the Free Carrier (FCA) Incoterms®
Aligns different levels of insurance coverage in Cost Insurance and Freight (CIF) and Carriage and Insurance Paid To (CIP).
A change in the three-letter name for Delivered at Terminal (DAT) to Delivered at Place Unloaded (DPU).
Includes arrangements for carriage with own means of transport in FCA, Delivered at Place (DAP), Delivered at Place Unloaded (DPU), and Delivered Duty Paid (DDP).
Includes security-related requirements within carriage obligations and costs.
The official ICC Incoterms® 2020 will be launched in the UK on the 15th of October outlining the changes and the impacts these changes will have.
How will WTA be supporting our clients and prospects?
WTA experts will be undertaking all necessary training to ensure a detailed understanding of the changes .There is a lot of information out on the net, but a lot of it is unreliable. The ICC warns users to be wary of anything other than official ICC guidance; relying on information found online is a major cause of incorrect usage of Incoterms®, with adverse consequences for businesses and their insurers.