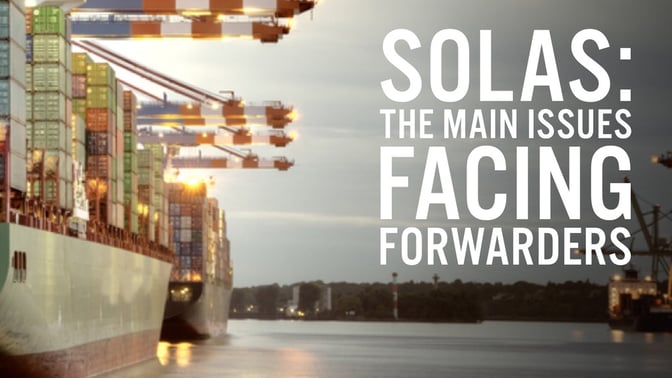 With the new SOLAS weight verification changes fast approaching, now is the time to make necessary preparations. Yet, while some believe that only carriers and shippers will be affected, the reality is different. Upon closer examination, it's evident that forwarders will also face extensive ramifications when these new rules come into play.
The question of shipper identity is a potential problem area for forwarders. When a forwarder is named as a shipper on a bill of lading when acting as a carrier, they are then responsible for providing the VGM.
Because the forwarder doesn't actually load the container, they're not qualified to verify the weight under the calculation method.
Moreover, the shipper would have established the weight using this method, so to do so again would be redundant.
CLECAT has recommended that forwarders issue their own document stating the VGM, based off the information gathered from the shipper. Procedures are needed so that the forwarder can create a separate document, one that follows the VGM as given by the shipper.
Most forwarders decide to use the calculation method or relay the information given by their shipper, so a certain level of assurance about how they can do it is essential to streamlining processes.
It makes sense to use the calculation method if you're not packing the container yourself, especially for consolidations where it's possible to combine and sum up the total of all shipments' verified weight declarations to create a total VGM. But, without certainty, these processes could become confused - causing delays in your transportation.
There are many other issues that forwarders might face in the wake of these new rules.
The transmission of VGM information will undoubtedly be affected, as the shipping lines must examine their policies for timeframes and means of submission to ensure clear communication to forwarders.
If you're a forwarder, you might also be affected by disparities over how national authorities will be implementing these SOLAS rules. It still hasn't been decided what, if any, margins of error will be accepted around the globe - though CLECAT advocates 5% either way.
A 5% leeway will give some flexibility to deal with natural variations and other instances where there's a divergence from the declared VGM. This will result in fewer delays to supply chains while also protecting all involved from safety concerns (the reasoning behind the VGM in the first place).
Yet, any leniency to the rules isn't an invitation to flout them. They are in place for a reason, and the sooner everyone gets on board the better.
It's true that SOLAS Weight Verification changes will bring benefits to those transporting goods. There will be much greater certainty and predictability in receiving weight declarations from shippers. And, under the new rules, forwarders will get an accurate VGM quickly - all with the legal protection that comes with a signed official document.
This is vital, as it will limit the potential exposure to legal action from shipping lines.
That said, there are still a great deal of unresolved issues surrounding the new VGM rules. The full extent of the implications will only be felt upon their implementation.
These potential problem areas highlight the urgency of the situation. Those engaging in shipping must act now, or attempt to hurdle these obstacles later.
The fact of the matter is simple: no VGM, no loading. Your goods will sit idle, authorities refusing to take them aboard the ship. Needless to say, this will result in costly delays. But, what needs to be avoided is this occurring due to these rules being too harshly interpreted. Though safety is the number one concern, the efficiency of international shipping must remain.
Procedures are needed to ensure that a VGM obtained from a shipper, transmitted "back-to-back" to the carrier by a forwarder, will be accepted and recognised by the powers that be.
Several times, SOLAS amendment calls have been made for commercial parties to come to agreements in how they will apply these rules. These agreements between forwarders and shippers could then outline clear responsibilities. For instance, that the forwarder may send the VGM to the carrier on the shipper's behalf. Or, that carriers must allow the use of such methods.
Carriers and terminal operators must also reach an agreement, communicating effectively the procedures/facilities that will be used when containers don't have an acceptable VGM.
Though it's clearly better to determine the VGM further up the supply chain, having weight facilities positioned at terminals would make sure disruption to supply chains doesn't occur if a container has to be reweighed.
In order for these SOLAS weight verification changes to work, total transparency from carriers and national authorities is vital. Authorities need to detail their policies to implement these new rules, and should take an active role in their coordination. In doing so, they'd create a level playing field between nations - a vital necessity for those operating within Europe.
Shipping lines should also provide their customers with relevant information on their policies for acceptance of VGM from forwarders acting as carriers, as well the means and timelines for transmission.
The key takeaway is that forwarders and shippers have a large amount of work to do in order to fully prepare for the SOLAS rules. Greater clarity is needed amongst all parties so that goods can be shipped from A to B without undue delay. Though the main players haven't yet reached a solution, it's evident that steps are being made - and will hopefully be put into place in time for the July 1st deadline.
Discover more about SOLAS weight verification changes from these articles:
Are You Ready for the Gross Mass Verification Deadline? UK Exports Update
5 Things You Need to Know About SOLAS Weight Verification Changes
If you'd like to learn more about how these changes might affect you and your business, please don't hesitate to get in touch with our team of global logistics experts today.