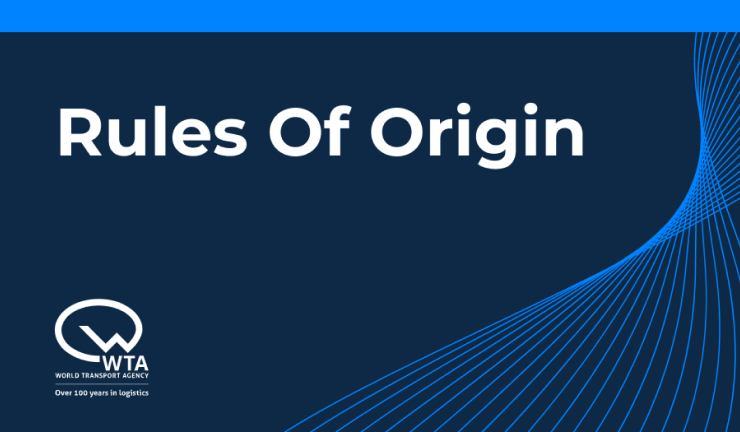 Brexit has changed the way shippers handle imports and exports between the UK and the EU.
As of 1st of January 2021, companies have had to demonstrate the originating status of their goods to be entitled to preferential treatment under the EU-UK agreement.
If these goods do not meet the origin requirements, they will be liable to customs duties and tariffs. As is typical with Brexit, it can be hard to understand the complexities surrounding the new trade legislation.
Here, WTA UK will break down the impact of the new rules of origin.
The UK/EU Trade Deal
First and foremost, the UK/EU Free Trade Agreement eliminates customs on goods that originate within the other party. In other words, this means that goods mainly originating in the UK can be exported to Europe without tariffs and vice versa.
However, this also means that more paperwork is necessary to legally establish the origin of imported goods. The reason for this is to eliminate loopholes. A rule of origin statement means that a country that has a free trade agreement with the UK, but not with the EU, wouldn't be able to import its goods to the EU tariff-free if they went via the UK.
Rules of Origin
As a result of this potential loophole, shippers must self-certify their goods' origin. To do so, they must provide a statement of origin on an invoice or any other document that describes the originating product in detail.
If you fail to provide an origin for your goods, your cargo will be subject to delays, resulting in additional costs.
If your product doesn't meet the requirements of rules of origin, your product will be liable for customs fees and tariffs.
Important points to consider:
Transition period until 31st of December 2021:
There is currently a transition period in place that will end on the 31st of December. As a result of this transition period, importers will not require a supplier's statement of origin, relying on 'importer's knowledge' instead.
Importers must take care to obtain the supplier's declarations retrospectively.
Low-value goods:
There is a threshold on low-value goods that exempts them from a rule of origin declaration. If the goods are imported for personal use and valued less than €500, no rule of origin statement is required.
Preferential Tariffs:
You can claim preferential tariffs in a customs declaration form. UK importers can claim preferential tariffs via the CHIEFS or CDS systems, with shippers from the EU or UK able to make claims for up to three years after the import.
Choosing a freight forwarder such as WTA to handle your shipping takes all the headaches out of these new Brexit import laws. Learn more about the services WTA has on offer below.
If you have any Brexit concerns - feel free to get in touch Andrew Jessup.