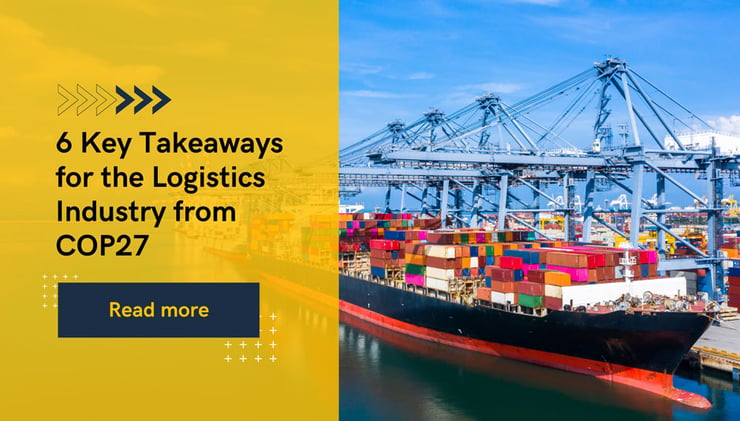 Posted: November 23, 2022
Updated: April 24, 2023
Sharm El-Sheikh, Egypt was this year's venue for the UN's annual COP27 climate change conference. Two weeks of speeches, negotiations and pledges cumulated in a breakthrough agreement; richer countries will compensate for damage and economic losses caused by climate change. Although the scale of this compensation remains unknown.
But behind the flagship headline, there was 1463 events across 15 days (as listed by the UN anyway.) With plenty of subordinate events besides. Lots of time then for other breakthroughs, many surely pertinent to the logistics and supply chain sector. After all, the statistics on emissions for logistics don't make for pretty reading. Freight transportation is estimated to make up 8% of global emissions right now, with the potential to double by 2050.
So, usually a sector in the spotlight at COP. What were the big takeaways from COP27 for the logistics industry?
1) The USA, UK, Norway and Netherlands pledge to roll out green maritime routes
Ocean freight shippers hoping to decarbonise their supply chains were handed a minor boost. The Clydebank agreement on green shipping corridors signed at COP26 in 2021 became closer to reality, with the USA, UK, Norway and Netherlands agreeing to implement these corridors between them.
A green maritime route is a shipping lane which is decarbonised from end-to-end, so running a zero-emission vessel is possible. It includes the land infrastructure at either end being sustainable.
This agreement commits the 4 signatories to leading the Clydebank agreement, which was looking to provide a framework for governments wanting to set up green shipping corridors.
It's certainly hoped that between them the USA, UK, Norway and Netherlands can prove a working concept for long distance green shipping corridors, which other nations can follow. Could these green maritime routes be the catalyst for a huge sea change in ocean freight sustainability? We better hope so.
Unfortunately, no timeframe is provided for implementing these corridors on the UK governments press release. So, it's obvious this won't have any short-term consequences on ocean freight shippers, but stakeholders need to get a move on to help businesses decarbonise their supply chains and hit that net-zero 2050 target.
You can track the worldwide progress towards green shipping corridors here.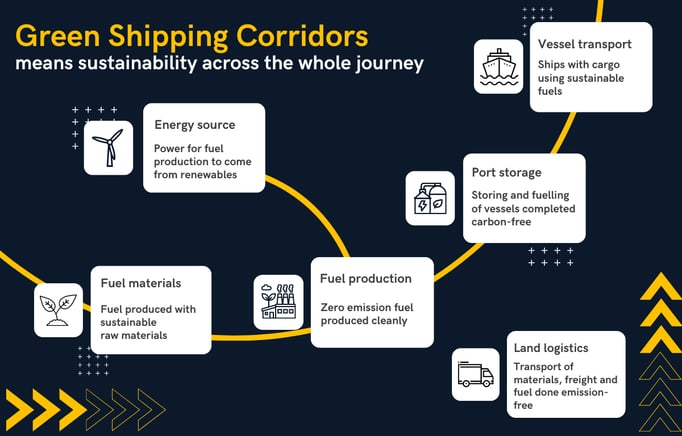 2) Private jet emissions took the scrutiny for aviation
One of the large talking points of COP27 centred around private jets. Ahead of the event, environmental protestors stormed onto the runway at Amsterdam's Schiphol Airport, preventing take offs for private aircraft heading to the event. Private jets are, by some distance, the least sustainable way of getting around. Using one to travel to the world's most significant climate conference… hypocrisy? Undoubtedly.
As reported by the BBC, 36 private jets landed at Sharm El-Sheikh between 4-6th November 2022. A further 64 arrived in Cairo, 24 of which came from Sharm El-Sheikh. Aviation headlines were focused private jet emissions.
Consequently, scrutiny over the remainder of aviation, which faces significant decarbonisation challenges, seemed reduced. There were no significant pledges for the air freight sector. It's an industry in desperate need of eco technology. Low emission or zero emission planes for commercial or cargo transit just don't exist yet. We'll be waiting until 2035 before Airbus release the first fully zero-emission commercial craft.
That being said, sustainable aviation fuel (SAF) does offer a more short-term route towards net-zero. It's disappointing there were no commitments around scaling up the production, infrastructure, and use of SAF across the aviation sector. Such commitments would give businesses a viable option for decarbonising their air freight more immediately.
Previous COP events and government reports (such as the UK's Jet Zero Strategy) have highlighted the value of flying to the global economy, whilst stressing the importance of decarbonising it. Unfortunately, there was no development of this at COP27.
3) The USA and Norway launch the Green Shipping Challenge
A further exciting maritime development from COP27 came from a pairing of the USA and Norway. Between them, a Green Shipping Challenge was launched, "encouraging governments, ports, and companies to prepare commitments to spur the transition to green shipping".
The challenge was revealed alongside 40 other major announcements from companies and stakeholders. With the hope of many more pledges from industry stakeholders to come. Some of the key ones announced at COP27 are listed below:
Maersk Signs a General Protocol for Collaboration with the Spanish Government to Explore Large-Scale Green Fuels Production in Spain.
Australia-Singapore Cooperation on Green Shipping Corridors.
Blue Sky Maritime Coalition and American Bureau of Shipping: Gulf of Mexico Green Shipping Corridor.
Greece commits to Reducing Emissions at Six Major Ports Through Operational Efficiencies.
Los Angeles-Shanghai Green Shipping Corridor Partnership: Los Angeles-Shanghai Green Shipping Corridor Partnership and Implementation Plan.
All 40 of the announcements can be found here, one of which is the collaboration between the USA, UK, Norway and Netherlands covered in point 1 of this article.
It seems establishing green shipping corridors are the focus for governments in their efforts to move ocean freight towards sustainability. For two years now they have been the talking point of the maritime sector at COP.
For shippers time is of the essence to turn them into reality. A growing number of green shipping corridors on long distance routes will mean there is a credible option for moving goods around the world in sustainable fashion.
4) The World Road Transport Organisation calls for help in achieving net-zero
Away from the event itself, the IRU reiterated its commitment to achieving net-zero targets. However, it also highlighted the need for support to hit them. A statement which should reassure road freight users they aren't going to burden an unfair share of the cost of decarbonising land logistics.
The road transport sector, like so many others, is committed to a net neutrality of emissions by 2050 but must overcome significant infrastructure challenges to accomplish that.
IRU President Radu Dinescu said "The leading organisations in the sector have come together today to restate their firm commitment to effectively reducing CO2 emissions to net-zero by 2050, in line with the Paris Agreement."
Effective road transport, road networks, tunnels and bridges, recharging and the associated services are essential to ensure decarbonisation of the road network. It's evidently the opinion of the IRU that many key industry stakeholders aren't doing enough, quickly enough.
The IRU's specific requests to other industry stakeholders can be found here.
For road freight shippers, it is reassuring that the IRU are campaigning to spread the cost of sustainable infrastructure across many stakeholders. It's indisputable that this transition is going to add costs for road freight over the coming years, so implementation in a manageable way is vital.
5) There were calls for more businesses to join the 1.5°C Supply Chain Leaders in the Exponential Roadmap Initiative
Several business giants used COP27 to reaffirm their commitment to the 1.5°C Supply Chain Leaders decarbonisation programme, and suggested others should join it.
Launched in September 2020, the initiative is for businesses committed to cleaning up their supply chains. Progress for members is measured across 4 main pillars, outlined below, with a primary target of halving value chain emissions by 2030. Then going further.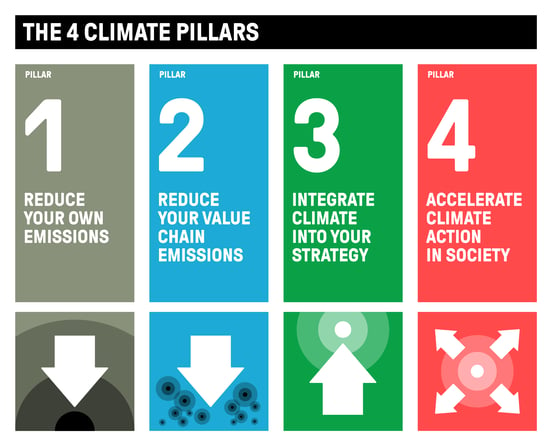 (Credit: 1.5°C Business Playbook)
Unilever, BT and Ikea are among the businesses that took COP27 as an opportunity to call for other corporates to join them in accelerating decarbonisation. The 1.5°C Business Playbook scheme is backed by firms in a wide variety of sectors, from entertainment to retail to technology.
What this highlights for shippers is the growing pressure to speed up the rate of decarbonisation, across the entire value chain of the business. Those who stay ahead of the trend will be best positioned for success in the decades to come.
6) Where was 'Transport Day'?
A peculiar omission from COP27 for those in the logistics sector, was the absence of Transport Day. A key part of the COP26 event in Glasgow, but at this year's event, transportation only featured as a small part of 'Solutions Day'.
Forbes noted an apparent "reduced emphasis on sustainable transport in the official plenary sessions compared to last year's event". Strange, when transport overall contributed to 37% of all emissions in 2021. It's certainly a sector which needs the spotlight. Particularly in those areas that technology is lacking, such as aviation.
Is this to blame for a reduction in official announcements for the logistics sector, compared with COP26? Possibly. But for supply chain managers it's a disappointing change in focus. There is no avoiding the need to decarbonise and COP27 didn't quite have the support expected. Here's hoping for a return of Transport Day at COP28 in Dubai, helping to galvanise support for a sector which badly needs it.


So, nothing emerged from COP27 requiring immediate implementation or attention from logistics industry professionals. But the general trends towards green shipping corridors and zero-emission HGVs continue. Infrastructure, investment and collaboration is required urgently to accelerate progress and achieve net-zero goals.
For air freight, the technology for zero-emission flight is further away, but there was a disappointing lack of attention on sustainable aviation fuel at this year's event. A key component right now in the battle against emissions in aviation.
Much like COP26, this year's event took baby steps towards decarbonisation. But critics would argue that is way short of the enormous leaps needed to avoid climate catastrophe.
For more discussion on sustainability in the logistics sector, explore our article here on whether the recent increased profitability for carriers is likely to accelerate the sustainable agenda. Or explore how the UK's Jet Zero Strategy will impact air freight shippers below.