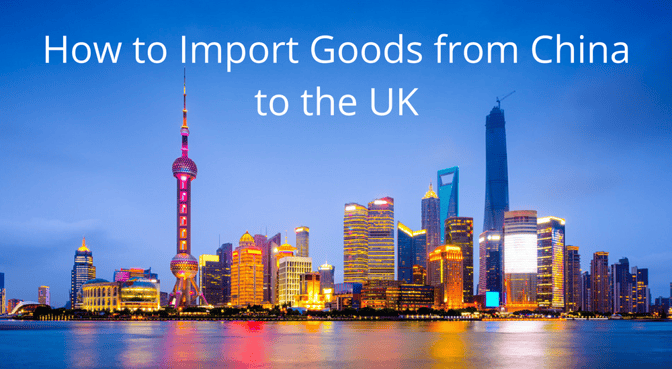 The pace of the global market is accelerating at an incredible rate. Through globalisation and technology, we are gaining access to consumer groups all over the world. And, we are now also able to bring the goods of different countries into our own.
Economically, importing goods from other nations can be incredibly beneficial. Costs of manufacturing might be lower and resources might be less expensive, allowing for a more profitable business operation.
As one of the world's largest exporters, China draws a great deal of interest from foreign businesses. China's ability to mass produce and assemble products for a competitive price has made it incredibly popular, as the lower prices bring with them the potential for enhanced profit margins.
For the UK, the desire to import goods from China is vast. This trade lane is now the UK's third largest, and demand for Chinese goods is still on the rise.
So, how can you take advantage of the benefits of importing from China? How can you ensure a streamlined shipment?
At WTA, we have decades of experience dealing with imports from China into the UK. And, with head offices in both London and Hong Kong, our international shipping experts have a profound understanding of what you need to do in order to achieve a safe and reliable delivery.
Before you begin your import from China, here are some important factors that you must consider.
Transport Method
When shipping your goods internationally, the mode of transport has a significant impact on your delivery. Air freight, for example, might be faster than sea, but it is more expensive.
To discover the right fit for your needs, it's important that you identify your shipping goals. Do you have time constraints or a next-day delivery policy? Are you looking to optimise your profit margins as much as possible? The answers to these questions will shape your final shipping solution.
Gather Vital Documentation
In order to bring foreign goods into the UK, a number of important documentation needs to be accounted for.
Firstly, you must find out the relevant Commodity Codes for your items. Commodity Codes are essential to your shipment as if your products are incorrectly labelled it could result in UK Customs delaying or halting your goods.
In addition to your commodity codes, you will need to obtain an Economic Operator Registration Identification number (EORI).
This number is used by UK Customs to ensure the upkeep of border security and helps to streamline your shipping processes.
Ensure that all of your item's labels and invoices include the full, and correct, details of:
The sender and receiver

The quantity of your goods

The value of your goods

A detailed description of your items

Your relevant Commodity Codes
Pay Tax on Your Products
When importing goods from China into the UK, you will be required to pay certain fees and taxes on your products. The VAT, or Value-Added Tax, will need to be paid in most cases, as will duty on your goods. The duty you pay will depend entirely on the classification of your goods, as well as how they will be used within the UK.
Find a Reliable and Experienced Shipper
There are a great many shipping companies in the market today offering a wide variety of services. It is important that you take the time to research your potential service providers, so you can utilise one that is aligned with your goals and business needs.
At WTA, we are international shipping experts and specialise in transporting goods from China into the UK. Offering a bespoke service, our solutions are 100% tailor-made to suit your unique needs.
By working hand-in-hand with you, we can develop an outcome that offers you the best return on investment. With expertise in complex customs clearance, supply chain management and international logistics, we can help you to transport your goods reliably, safely and in accordance with your budget.
Would you like to learn more about how we can help you? If so, discover the problems we can help you solve, or explore our specialities:
Otherwise, if you'd like to learn more about a custom solution for your China import, request a free quote today.