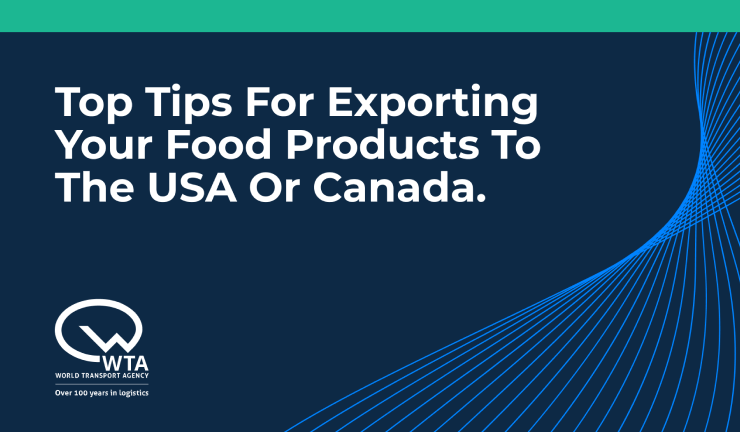 USA and Canada are both vital export markets for the U.K., in particular for Food and Drink.
Whilst most export markets have been struggling to see growth this year. Canada is a market that continues to grow by 5.7% in 2020.
Before embarking on initial export plans or export expansion plans to the USA and Canada, there are several key factors to consider in supply chain planning.
Discover how critical supply chain planning is for your food exports
One of the first and vital things to consider when exporting to the USA & Canada is what Incoterms are best suited to your business. Incoterms: Are You Ready?
The Incoterms you decide upon will essentially outline who is going to have control of your supply chain, either yourself as the food manufacturer or your customer.
How to find the right logistics provider?
As well as a customs broker, you are likely to need a logistics provider. Choosing the right logistics provider is going to take time and effort. The logistics partner you choose must be working for you and not the other way round. Ensure that the supply chain solutions that are being recommended to you work for your business requirements, not based on the logistic providers availability and location of assets.
Other supply chain considerations that you need to be aware of before talking to a logistics provider is to consider what sort of warehousing you might require such as, Ambient Temperature controlled warehouses or freezers, minimum shelf-life requirements from your customers and compliance to include Food Safety and BRC (British Retail Consortium)
Be aware that your supply chain requirements will change as you gain additional customers in different locations with different needs.
It is essential to keep your supply chain agile and flexible.
Understanding the Importance of finding the right customs broker
Importing to the U.S. or Canada is complicated, especially for food products, and if you are starting out, you will require hands-on assistance from your broker.
To maximise profits and eliminate delays, you need to know what is required well in ADVANCE of sending freight. This is why choosing a seasoned broker is essential.
Never underestimate the complexities of customs clearance, especially in the USA. Sometimes it is necessary to deal with 3 U.S. government agencies, USDA, FDA and Customs, all of them outlining their various requirements to enable you to bring your products into the USA. It can be a mountain of information to filter through.
Having a broker who has the knowledge and experience can be of enormous benefit, saving both time and money.
If you have any questions regarding your exports to the USA or Canada, do not hesitate to get in contact with the WTA Food Team