All-Party Freight Consolidation
Optimised Freight for Book Distributors and Publishers
For publishers and book distributors, getting your freshly printed books delivered on time and on budget to their final retail destination is vital. Once printed, your books travel thousands of miles before they ever end up in a reader's hands. With so many steps between printing and the distributor, it's critical for publishers and distributors to have a reliable logistics solution.
As a specialist logistics provider for the publishing industry, we understand every facet of what it takes to get your printed materials to their final destination. We are always looking for ways to streamline the logistical process for publishers. That's why at WTA Media, we offer All Party Freight Consolidation.
What is All Party Freight Consolidation?
All-Party Freight Consolidation offers an excellent alternative to the traditional model of moving a single publisher's order from the printing house through to the distributor. Instead, All Party Freight consolidation allows a collection of publishers to pool their published goods together and ship them from the origin points through to their shared distributor. This group of publishers (the Party) acts together to achieve optimum rates and transit times, ensuring that goods arrive on time and at a much lower cost.
How Does Freight Consolidation Work?
All-Party Freight Consolidation starts with a group of publishers coming together to consolidate their books at a single export gateway. Once the books arrive at the gateway, a tiered freight rate is calculated. Since freight rates are discounted per kilo at the higher consolidated weights, Parties benefit even more from combining their published goods into large shipments.
Publishers pay the tiered freight rate based on how many kilos of goods they are shipping in the Party's order. With no minimum charges or order sizes, small publishers and large publishers benefit alike.
The benefits of consolidating carry over to Customs as well, since the Party is shipping a single, consolidated shipment. The potential for delay at a Customs checkpoint is drastically reduced with this single entry, and Customs fees are calculated for the single shipment instead of over many smaller shipments. Once the shipment has left Customs, WTA Media then ensures transport to the distributor channel.
All-Party Consolidated Freight speeds along the transit from customs to distributor channel as well. Once the shipment leaves customs, delivery to the distributor channel is set to an agreed timescale, providing both publishers and distributors with a guaranteed and reliable transit schedule.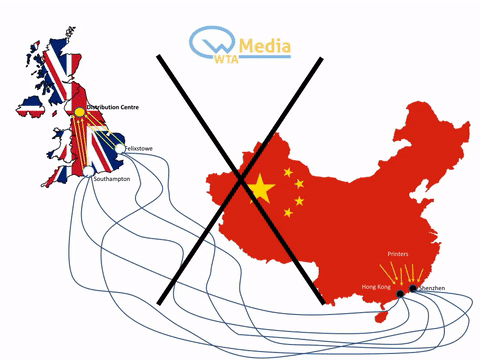 Why Do Publishers Choose to Consolidate Freight?
Every publisher can benefit from a quicker to market time, which is why All-Party Freight Consolidation is becoming one of our most popular services at WTA Media. Freight consolidation offers publishers reduced costs on fixed shipping schedules, erasing the uncertainty publishers traditionally faced and reducing the carbon footprint. These consolidated shipments also eliminate the minimum order size that publishers had to contend with, allowing smaller batches of books to be shipped sooner than was previously possible.
At WTA Media, we also offer publishers order management on the publisher's request, ensuring complete transparency to shipment status. With so many benefits for a quicker, more reliable, and more cost-effective freight solution, All Party Freight Consolidation is the perfect solution for many publishers.
Are you a publisher looking to learn more about All Party Freight Consolidation? Contact the Head of WTA Media, Martin Watts, to discuss your complete solution.
How do Distributors Benefit from Freight Consolidation?
Distributors rely on regular shipments to keep their supply chain optimised, yet logistics challenges have forced many publishers to compromise and reduce efficiency. With All Party Freight Consolidation, distributors are freed from many of these challenges and receive reliable and regular information from your client publisher. Lead time on shipments is ensured with the consolidated freight fixed schedules, allowing distributors to minimise their stock levels to ideal levels. The single, scheduled delivery to the distributor provides improved inventory management, a lower carbon footprint, and reliable and predictable inventory management.
Distributors working with WTA Media's All-Party Freight Consolidation benefit from WTA Media's order management system at no additional cost, increasing the visibility for your clients. The Head of WTA Media, Martin Watts, is happy to discuss how freight consolidation can help optimize your logistics.