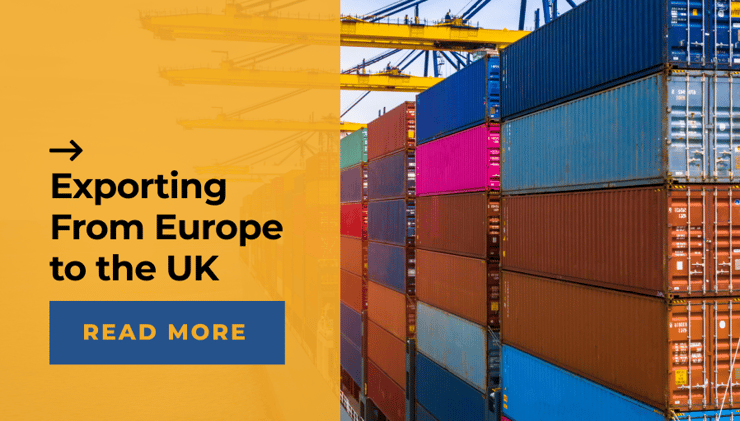 As a result of the Free Trade Agreement between the UK and the EU, the manner in which goods are exported from Europe to the UK is set to change.
Exporters from Europe to the UK will have to follow a completely new set of rules, marking the most dramatic change to UK imports since the 1993 introduction of the EU single market.
Here, WTA UK breaks down the new changes and reveals how to export from Europe to the UK.
Changes from 1st of October 2021
All products of animal origin (POAO) – for example meat, honey, milk or egg products – and all regulated plants and plant products will require pre-notification and the relevant health documentation.
Any physical checks on high-risk plants will take place at border control posts, rather than at the place of destination as now, from 1st Jan 2022.
If you are importing Products of Animal Origin (POAO) or a regulated plant and plant product, you must be prepared to submit pre-notification and the relevant health documentation.
You must meet Safety and Security requirements on all exports.
Note: If you are not importing Products of Animal Origin or a regulated plant, you do not need to make any changes from January 2021 requirements.
Changes to note from the 1st January 2022
If you are moving any goods, full customs declarations will need to be done at the point of importation and relevant tariffs paid. Delaying declarations will no longer be possible and full S&S declarations will be required. For commodities subject to sanitary and phytosanitary (SPS) controls, these must arrive at an established point of entry with an appropriate border control point and there will be an increase in physical checks and the taking of samples. SPS checks for animals, plants and their products will take place at GB border control posts. The Good Vehicle Movement Service will be in place for all imports, exports and transit movements at border locations which have chosen to introduce it.
You must meet full customs requirements including submitting declarations, regardless of whether it is a controlled or a non-controlled good, as well as paying VAT and excise duty where necessary
Submit Safety and Security declarations on all imports.
Be prepared for customs compliance checks either at port or an inland site
Be prepared for relevant SPS goods to enter GB via a Border Control Post either at port or an inland site, accompanied by SPS documentary requirements.
Do not fail to complete customs, VAT and excise requirements or fail to submit goods to any necessary physical and documentary checks at GB Border Control Posts.
March 2022
Checks will commence at the border control posts for live animals and low-risk plants and plant products.
Things to remember
As the UK has left the single market, new regulations are in place for trade between the European bloc and the UK. The following is a quick breakdown of the important steps you will have to follow to export to the UK from Europe:
Ensure you Obtain an EORI Number
To continue importing goods into the UK, you will need to receive an Economic Operator Registration and Identification Number (EORI). If your company does not have an EORI number, you will likely face delays and higher costs when importing to the UK.
Customs and duties
Ensure that when you export your goods to the UK, you understand the relevant taxes and duties to be paid.
Declare appropriately
It is important to declare all of the relevant information when exporting to the UK. One of the most important and newest declarations concerning UK/EU trade is the rules of origin. If you don't declare the origin of your goods, you're likely to face higher costs.
Relevant Licences
Naturally, you will have to ensure that your business holds all the required licences to import your goods and cargo into the UK.
While it is possible to export to the UK in-house, a freight forwarding company such as WTA UK can help streamline the process and handle all the necessary documentation. This not only ensures optimum routes, but also reduces the risk of delays and fees from documentation errors.
WTA UK wants to take the stress out of exporting from Europe to the UK. To learn more about how WTA UK can help you streamline the process of exporting to the UK, click below.