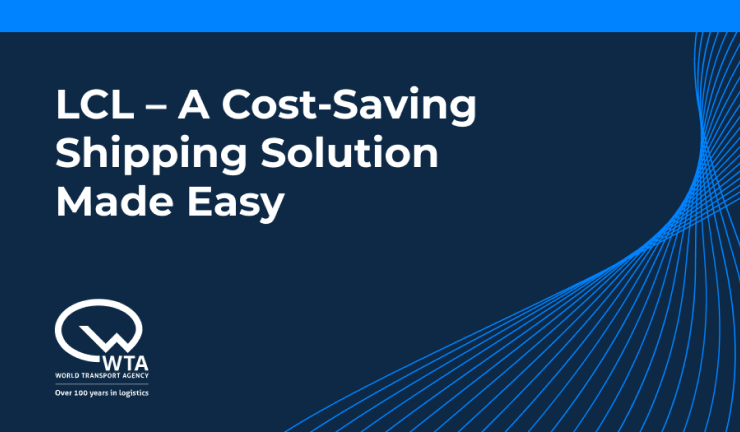 Are you currently shipping a container that has a lot of empty space? Do you have trouble meeting your FCL shipping requirements? Have you considered an LCL (Less-than Container Load) service that is flexible and a cost-effective supply chain solution?
What is LCL?

LCL refers to Less-than Container Load. This is often compared to FCL (Full Container Load), a service you may have used for your freight previously. So, what's the difference?
LCL is a flexible service that works for your business shipping needs; whereas, FCL requires you to ship and fill an entire container. LCL, on the other hand, consolidates multiple shipments of different weights and volumes from various shippers to fill a single shipping container.
Only pay for the space you use.
The positive impact LCL may have on your business is limitless. If you are overbuying stock, holding inventory for long-periods or paying premiums, our LCL service could be the cost-saving solution your supply chain needs. LCL gives you the ability to match the flow of product with customer demand, avoid inventory costs and keep your freight costs down.
We also know that flexibility is vital in this ever-changing pandemic period. Our LCL services allow for the required flexibility of services, giving your business the chance to focus on its cash flow.
We hear you.
Reservations regarding an LCL service, typically range from the variability of trade lanes, lack of visibility to track shipments progress, the inconsistency of multiple touch points and risky nature of moving your shipments along with other loads. While these are legitimate concerns, WTA is in the fortunate position to meet every one of these head-on.
We give you visibility, precision and transparency.
Our LCL service is a consolidated system that takes your complex logistic processes and connects them in a centralised location. Our digital platform will keep you posted every step of the way, and we set performance benchmarks to deliver an on-time service. We deliver to your exact requirements.
We provide a personalised touch.
For every one of our clients, we assign a personal account manager. Our account managers are highly proficient in dealing with LCL shipments, working tirelessly to ensure the safety and security of your shipments. Our LCL service makes your shipping process seamless.
We deliver operational excellence.
At WTA, our primary goal is to make sure we give you peace of mind in knowing your cargo is going to make it to the desired location on-time, hassle-free. The transit times we provide are the transit times we stick to.
We simplify the process.
We control our own LCL services, consolidating our clients' products into one container. When the container leaves the port of origin, you will have the visibility you require and a notification when it arrives at the destination. Here, your goods will be unloaded and delivered to the consignee. We keep the touch points to a minimum, reducing the risk and ensuring that your goods are delivered where they need to go.
Would you like to learn more about our LCL services? Head over here to discover more.
To discover more about how WTA can help you and your business, click here for a free consultation.