Personalised Logistics Solution for your printed matter
At WTA Media, we are international logistics specialists. With a global reach and customer-centric focus, we deliver your books safely and in accordance to your timelines...all while streamlining your supply chain and enhancing your profitability.
Maximising Sales with Reliable Delivery
Successful publishing campaigns are built on the reliability and reach of your transportation. To give you return on your investment, it's vital that your printed materials are delivered on time, to the correct locations and in exemplary condition.
Transporting your publishing products efficiently requires a truly first class solution. You need a process that has been customised to fit your needs. At WTA Media, we handle your goods from start to finish with our dedicated Order Management System (OMS). By applying world-class attention to detail, in-depth planning and communication excellence to your publishing logistics, we ensure your materials arrive at their intended destination on schedule, and in premium quality.
With our dedicated publishing network, Bookfreight, we can give your business access on a global scale. Nowhere is off limits, and you can rest easy with the knowledge that our experience in this area is unparallelled.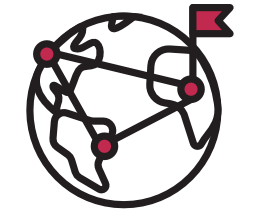 Efficient Delivery to Enhance Profit Margins
As part of your customised publishing solution, we strive to ensure your goods are delivered as efficiently as possible. Through our highly responsive, detail driven and holistic approach to planning, we are able to streamline the transportation of your materials, keeping your costs down as a result.
Our team also deals with all customs and compliance issues, including tariff classification for novelty items.
Our specialised publishing team has over 65 years of combined experience. WTA Media has also developed strong relationships with many of the top printers in China and Europe. Our extensive experience working in the publishing industry and our attention to detail means we know how to deliver the best results for your business.
Complete Visibility From Start to Finish
The secure delivery of your goods is deeply embedded into our transport operations. For your peace of mind and convenience, we can give you 24/7 visibility of your goods. More so, we have the ability to give you access to any information you desire. This includes the shipping status and performance against any of your Key Performance Indicators.
Your Global Freight Service
At WTA Media, our global logistics specialists can give you a fully comprehensive, global delivery service, whether it is to the port or to direct to door. As accredited Authorised Economic Operators (AEO) in the UK, we can give you fast-tracked clearance through trade ports.
Working side-by-side with you, we identify how best to meet your needs, FCL, LCL, Cross Trade, we can handle it for you. We stop at nothing to ensure that your goods delivered on time and intact, and our experts make sure that your supply chain operates at peak effectiveness to enhance your profit margins. This service is free of charge, and it can result in huge benefits for your business.
Innovation is also a large part of our processes at WTA. As such, we give you access to a number of technologically advanced services, including:
A state of the art CO2 calculator, giving you the ability to benchmark your data year by year.
An OMS which automatically balances shipments if less than 95% of your order is dispatched.
A Rate Calculator developed based on book specifications (per copy or per Kg), allowing quick and easy cost appraisal.
We also offer a specialised fulfilment service if needed, which includes labelling and repacking of your goods.
Plus, we also offer book specific consolidation services – Books travelling with Books
A Personalised Logistics Solution for Your Publishing Requirements
To give you a first-class customer experience, you will have your own account manager. They will personally keep track of your materials, and be available to answer any question or meet any requirement you might have, from start to finish.
Our international supply chain specialists can help you to get the results your business needs to succeed. We have many different services that can be used in combination to achieve the best return, follow the links below to learn more about them.
Discover our Air Freight service
Discover our Sea Freight service
Discover our Overland Freight service
Discover our Warehousing service
Together with WTA Media, your business can get the competitive edge it needs to succeed in today's global market.