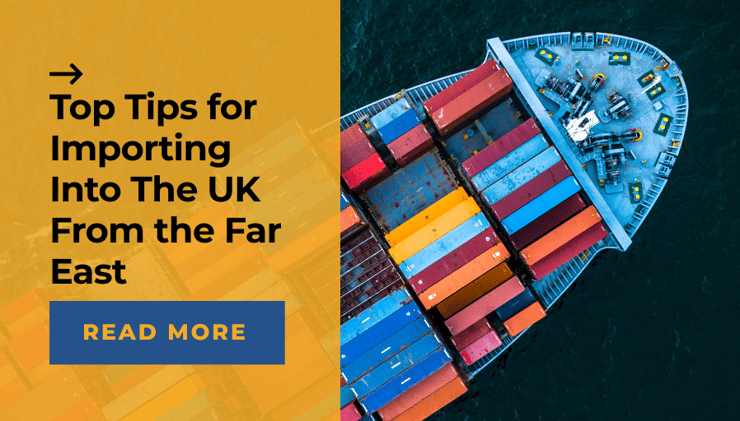 Posted: August 8, 2019
Updated: April 27, 2022
Collectively the UK imports well over £90 billion worth of goods from the Far East and yet it can be a minefield for even the seasoned shipper, who ships from various locations, such as China, Hong Kong, Japan, Singapore, Vietnam, Malaysia etc.
Trade between any country from the Far East have their own specific concerns and regulations that importers need to be aware of when it comes to the shipping process and to also know where to look for potential hidden costs, such as having your product under the correct tariff heading with HMRC.
1. Shipping Options
As an importer from the Far East, the main shipping options are by air, sea and growing In popularity is rail. If there is no pressure to deliver quickly, shipping by sea will likely be the best and least expensive option. Smaller items might be eligible to ship by post, which must be declared by HM Revenue & Customs. The Integrated Tariff of the United Kingdom, also referred to as the Tariff will explain what importers need to know, the current duty and import VAT rates, and which imported goods require a license.
2. First-time Importers
Importers that have not yet shipped to the UK must apply for an Economic Operator Registration. An Identification (EORI) number is necessary for all UK based importers. The EORI number application is free, but product samples are needed before import. Without an EORI number, customs will put a hold on incoming shipments.
3. Customs Duties
The majority of products imported from the Far East are subject to an import duty, which is paid upon arrival to the HM Revenue and Customs, or through a freight forwarder. The import duty is calculated as a percentage on top of the customs value. It is based on the product value, transportation cost to the UK, and insurance. Imported products are also subject to the VAT, which is paid upon arrival. The VAT rate is a percentage paid on top of the customs value and import duty.
4. REACH Compliance
While the UK is still part of the European Union, the directives of the EU are mandatory. REACH, which regulates chemicals in consumer products such as clothing, toys, electronics, and furniture, must be adhered to. Importers must refer to REACH when communicating with suppliers and testing companies as regular chemicals are added continually. Compliance must be met by submitting batch samples to a laboratory, otherwise, the product will be rejected.
5. CE Directives
The UK also requires that all products include a CE marking for many products such as toys, electronics, machines, medical devices, and construction materials. There are more than 25 different directives that need a CE marking, and more than one can apply to a product. Imported CE-marked products must also have:
Declaration of Conformity

Test Reports

Product photos, design drawings and BoM (Bill of Material)

Applicable directives and standards
Electronics are also required to have WEEE Marketing, which must be affixed to the product packaging.
It is important to note that when the UK leaves the EU later this year, many of the customs requirements will remain the same. But, there will undoubtedly be changes for importers in the future.
During this period of uncertainty, WTA UK can assist you with importing your products whether it is FCL/LCL from anywhere in the Far East to the UK. We will ensure a timely, compliant and reliable delivery. Plus, we offer customised solutions for all of your shipping needs. Speak to our Far East Division import specialist today