Posted: August 30, 2022
Updated: May 9, 2023
In December 2021, the UK and Australia announced a free trade agreement (FTA) in principle had been signed. A deal which is set to come into force after 31st May 2023. It's being seen as a landmark moment for the United Kingdom. One of the first brand new trade deals secured post-Brexit.
"Alongside our recent conclusion of talks to join CPTPP, the government is forging a bold new future alongside the world's most dynamic and fast-growing economies."

Business and Trade Secretary, Kemi Badenoch
For UK exporters, this opens opportunities to a market of nearly 27 million wealthy potential customers, which boasts a GDP per capita of over 51,000 USD. For Australian businesses, it means improved access to a market of 67 million.

Why is the UK-Australia free trade deal significant?
The UK–Australia trade deal is good news for businesses in the two countries. In the simplest sense, the deal will lower the exporting costs for both sides. Tariffs on almost all trade between the nations will be removed. Consumers will also enjoy lower prices and increased choice.
Australia does not have a free trade deal with the European Union. Therefore, businesses will be welcoming brand-new, pro-trade terms not experienced before.
The EU and Australia began negotiations over a free trade agreement in 2018 but have seen them stall twice. Most recently in October 2021, after Australia cancelled their French nuclear submarine contract in favour of Aukus. Now though, Australia and the EU are pushing to get a deal signed in 2023, although it will be a couple of years until it comes into force.
One of the most exciting aspects of the deal is the homogeneity of the markets. There are huge cultural similarities between the nations. Customers like the same sorts of things. This makes moving into Australia for UK businesses, or vice versa, far less risky than moving into other markets.
The deal is of particular significance to UK exporters, who enjoy a trade surplus with Australia. Sending roughly £10bn in goods and services every year.
Predictions are that the wholesale, retail, machinery and vehicle, sectors are to be the largest beneficiaries from the agreement. But that it's worth exploring for companies in all sectors.
The long-run effect of the deal is said to be roughly a £2.3bn GDP boost per year by 2035, so there are significant opportunities presented by the deal.
The deal has also been successful in advancing the UK's bid to become a member of the Comprehensive and Progressive Agreement for Trans-Pacific Partnership (CPTPP). A trade group of 11 countries, including Australia and making up 13.4% of global GDP, which the UK has now been accepted to join.
It's a deal which opens up tens of millions of potential customers to tariff free UK goods and services, while gives UK consumers more choice.
"Sitting here today, trade with CPTPP nations is substantially down on the UK's biggest economic partners. So immediate import and export opportunities will be limited. But there's no doubt this agreement is with the long term in mind. As more nations join, it could be a sizable boost for UK firms in the years to come."

Justin Hope, Imports Associate Director, WTA Group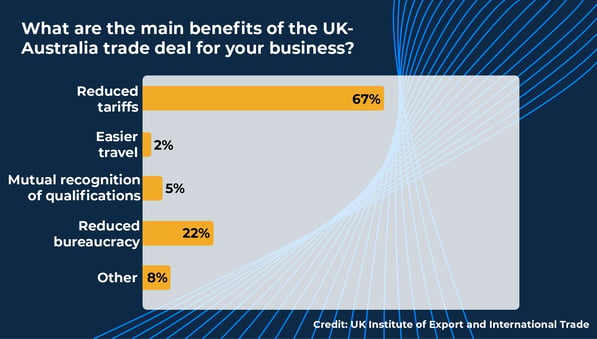 In an August 2022 poll of UK businesses by the UK Institute of Export and International Trade, reduced tariffs and bureaucracy were seen as the overwhelming biggest benefits of the FTA with Australia. With nearly 90% voting for those when asked.
What are the changes to UK-Australia trade?
Thankfully the changes to trade are simple to understand, which isn't always a given!
Australia has agreed to remove tariffs on most UK exports as soon as the agreement comes into effect. There are a few exceptions though. Cheese, steel and iron duty charges will be gradually removed over a period of five to six years.
The United Kingdom meanwhile has agreed to remove tariffs on most Australian products the moment the agreement comes into force. But, there are four exceptions where tariffs will remain for the long-term: pork, poultry, eggs, and long grained rice. The UK is also imposing import quotas (maximum allowed quantities) of beef and sheep meat for the first 15 years of the agreement.
"This is an exciting time for the UK – Australia trade lane. These are the most pro-trade conditions we've ever seen between the two nations. I look forward to more companies discovering the export opportunities now available."

Dylan Whittaker, World Transport Agency, UK to Australia Exports Operator
Concerns over the UK-Australia free trade deal
As a UK exporter, there really is nothing to be concerned about with this deal. It signals only opportunity and the right time to look at the Australian market. Consumers in the countries are like-minded. There are fewer cultural obstacles to overcome compared with other foreign markets.
Most of the concerns come from the UK farming sector. Who fear Australian imports on produce can undercut them. Hence the UK government's insistence on tariffs and quotas for some farming goods. The UK government also stipulates that British farming produce is very popular with British consumers and that isn't likely to change.
An added complexity is Northern Ireland, which remains an entry point into the EU customs union courtesy of the Windsor Framework. Yet, this isn't expected to affect the deal. NI businesses will benefit from the FTA like the rest of Great Britain.
The biggest challenges of the deal are probably logistical ones. The two countries are over 15,000km apart. Even a direct service between London Gateway and Sydney port takes about 50 days.
That being the biggest challenge is reflected in the market research.
The same UK businesses who were asked about the main benefits of the deal, marked logistics and distance as the biggest challenge when exporting to Australia. Although knowledge of the market was another significant concern, picking up 22% of the vote.
However, that is where we come in. We have dedicated supply chain professionals who operate this trade lane every day. Simplifying your logistics is their speciality. Reach out today and speak to one of our experts. Then you can begin eliminating the logistical headache of getting produce into the Australian and UK markets. For more information download our UK – Australia trade lane guide.
Or if you're ready to take the next step, speak to our logistics expert, Catherine Godwin. With over 20 years in the industry, there isn't much Catherine doesn't know about international logistics and you'll do well to find someone more enthusiastic about exporting than her!