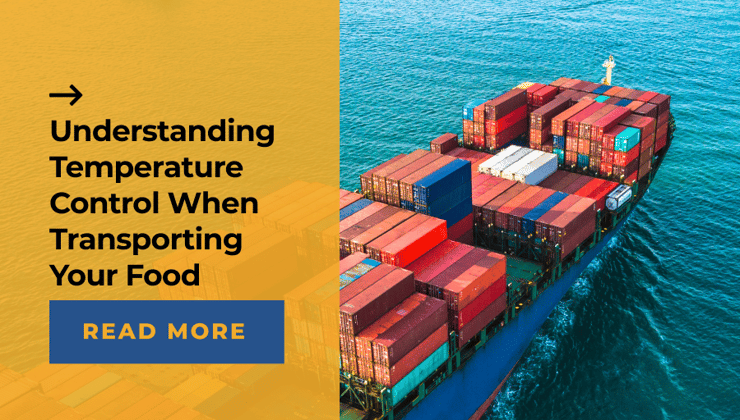 With UK food and drink exports exceeding £22.6 billion, it's never been more vital to have an expert managing the international distribution of your food products, especially if your products are temperature sensitive.
At WTA Food, we've been a part of the growing food industry for over a century, delivering service excellence and value worldwide. A common question we get asked regarding food transportation is how we manage temperature control while transporting food.
Below we have outlined the importance of temperature control when it comes to food safety, as well as the steps we take to ensure temperature is managed across the entire logistics process.
Understanding the Cold Chain.
At WTA, we know that if the temperature is not maintained throughout the logistics journey, this could potentially mean scrapping the whole load and thousands of pounds worth of stock. Perishable food needs to be kept in a chilled or frozen state along the entire supply chain. Failing to keep perishable food in the desired temperature range, because of insufficient refrigeration, can stimulate the growth of pathogens and spoilage microorganisms and render the product inedible. This is especially important if the goods are a frozen product because once thawed; it isn't simple as refreezing it. You can't use this product.
This process of transporting food goods is known as the cold chain. Another significant challenge faced in the cold chain is not just ensuring the correct temperature is maintained, but also understanding the different temperature requirements for various products and being able to cater for this. An efficient food supply chain can tailor the supply chain to the needs of the perishable food product. Every category of food product has a different optimal temperature level to maximise shelf‐life and commercial potential.
Over the last two decades, the distance that foods travel from paddock to plate has increased. Some studies suggest that the average food is moved in and out of refrigeration control 14 times before consumption. Therefore, it is crucial that the cold chain is appropriately managed and effective in its temperature control to maintain the safety, shelf life and quality of foods.
Managing your cold chain effectively and with precision.
When you work with WTA, you are investing in experts who endeavour to create a tailor-made food transportation service that is designed to your cold chain requirements. We know there is no one solution that fits all needs. Flexibility and tailor-made solutions allow for a supply chain to be developed to your bespoke requirements. Working side by side with you, we create a comprehensive solution, working with an extensive base of best in class providers from start to finish.
Not only this, but we work to create cost-effective solutions. Cost is another factor that seems to be a recurring challenge for clients looking to transport food products. As such, we are always looking to see what safe, cost-effective alternatives are on the market. An example of how we have been able to make food transportation more affordable, whilst maintaining security, is evident in our approach to supplying and installing thermal liners to containers for some food clients. By doing this, we can stop food products from freezing during winter. For other clients, we have been able to supply specialised coolers and shrouds to keep the food products from melting if travelling into warmer climates. These solutions are more affordable than using reefer containers; however, don't sacrifice the safety or quality of your product.
We provide complete visibility of your cold chain.
One of the critical points of difference that make WTA unique is our transparency and management of your logistics. Every WTA client is assigned an account manager that can tailor operations and monitor processes to ensure that your cold chain is a smooth sailing process. We can also offer data tracking services to guarantee the monitoring of temperatures and maintain the safety, shelf life and quality of your food products. Plus, WTA always requests containers are pre-set to the required temperature before arriving at the load point; which is a big help to our clients and is not a service that every freight forwarder offers.
WTA Food provides customised supply chain solutions to ensure you maintain total control over processes and your goods reach the destination without hindrance. Our team of experts are well-versed in managing all customs requirements, including for the US market in particular, the conditions surrounding continuous and surety bonds, multi-product entries, rapid clearance and duty deferment. With air, sea, overland and warehousing capabilities, we develop solutions that perfectly fit your individual needs - regardless of the complexity of your food supply chain.